"Unrefined Virtue"
Creative Quilting Techniques used: rusted fabric (33); stamping (231); dyed jute scrim (268)
I found that doing only one journal quilt was a lot harder than doing a monthly series. So many ideas, so many possibilities, how to settle on one? For me, the journal quilt project has always been about experiment and challenge, so I didn't want to claim techniques I was used to using.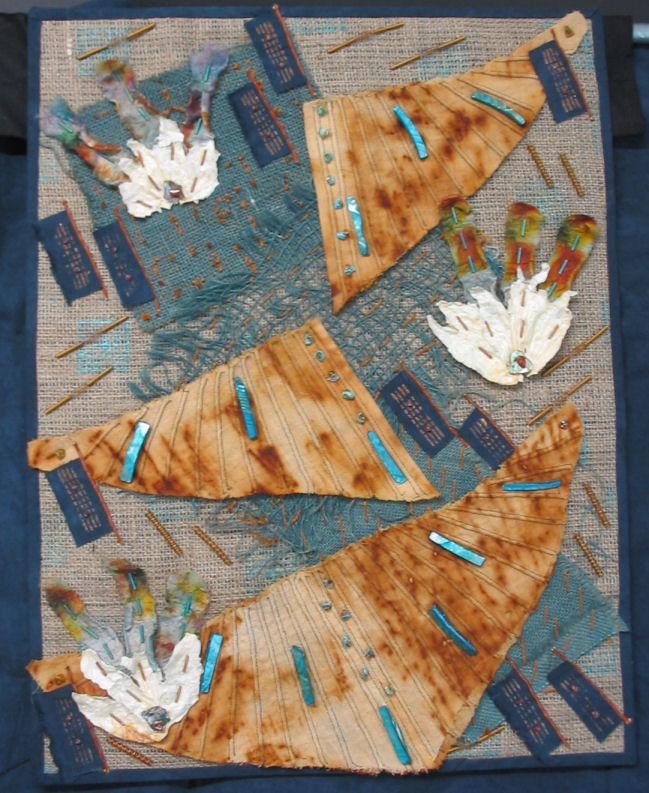 Another difficulty was that with all the techniques in the book I wanted to explore, I struggled to imagine how I could get 3 of them to talk to each other nicely enough to work as a team. I finally decided to go with an idea I have been exploring about my connection with the unsung women of history. I started with pieces of rusted fabric I experimented with for another project. They had been made as yokes for a skirt, but were too small.

Next, I started auditioning various things from my stash to see what wanted to be a part. Along the way, I discovered I had some dyed jute scrim which I wanted to try using somehow, so why not here? And there in the drawer with that sort of stuff was burlap…Cool, that would make a good background! And what about those dyed silk rods and that red grapefruit pith I had dried and saved? Sure, those would make good points of interest to move the eye around.

I sooo wanted to use metal shim in the piece (it is something I want to experiment with more), but it wouldn't play nicely so it has to wait. However, I do have a wonderful metallic turquoise bit from a computer that I scrounged from my son. I decided to use it as a stamp, because I was attracted to the pattern of the metal. And while I was stamping, why not one of the "vintage" Indian stamps I had picked up somewhere? So, at last I had my three techniques, and I threw in a couple more like stitch, raw edges and embellishment, which my work always seems to require.

And there we are! One journal quilt!