I was invited
to be a Designer for the
2007 Bernina Fashion Show!
And now, I have been invited back for 2008!
To see some of the garments Sandy
has made in the past,
click on the Wearable Art link.
Click Here
To see more garments shown at the
International Quilt Festival in
Houston, Texas, 2007
Theme: "Diamond Odyssey"

Meet Sandy: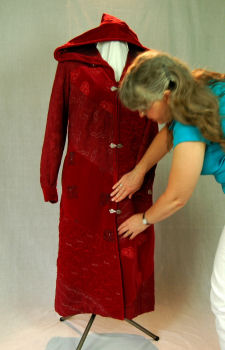 I have always enjoyed sewing, and through the years have found joy in many different aspects of the sewing disciplines. In 2002, I decided to consolidate my skills though the UK City and Guilds: Fashion programme and in 2006, I received the Diploma qualification.
The creative design aspect of the course helped me discover the artist lurking within and for the last few years I have been expanding my creative endeavours to include textile art. Lately, more and more doors of opportunity are being opened to me through the exciting world of textiles and design. A great deal of confidence in this area came through participating in the Journal Quilt project. I have also had the privilege of showing my textile art here in the UK, in America and also in Europe.
I have also continued to develop exciting designs. In 2006,at the Festival Of Quilts, Birmingham, UK, I won the Student Category with my design for a rust dyed skirt with a corded yoke. That Autumn, I was invited to participate as a Designer in the Bernina Fashion Show for 2007.

See more views of the 2007 garment here.

It was a very exciting process...VERY TIRING! but well worth it in the end. I am privileged to have been invited back for 2008. The theme is "Rendezvous". Watch this space!
Further to this I have also been invited to teach beginning Autumn 2008, at New Directions (Formerly Reading Adult Community College), Reading, Berkshire, UK. I am looking forward to helping others get excited about what can be done with a sewing machine!
To see more of Sandy's past work, visit www.craftycostume.com