Gown consists of chemise in ramie fabric (not shown), Corded corset, corded farthingale, underskirt, gown, and under sleeves.
Silk organza lined gown (using faux Hong Kong technique) is princess seamed, coming to a point below CF waist. CF skirt has inverted V opening to reveal underskirt. The gown flares significantly at the hemline. The neckline is embellished with pearls and gold metallic braid. A cross, adorned with more pearls, is attached at the CF of the neckline.
Sleeves are closely fitted on the upper arm, wide bell shaped sleeves, turned back to reveal the rust coloured cotton velvet lining, are sewn to the top sleeve.
Removable under sleeves attach inside sleeve with hidden hooks and eyes. The under sleeves are lined with oversized ramie lining which is pulled through the open seam in puffs, and caught in place with antique-look buttons. A small ruff, gathered with cord and embroidered with black work, is attached at the cuff.
-2006 Festival of Quilts, Birmingham, England
-Student Work Exhibition 2006, West Herts College, Hemel Hempstead, England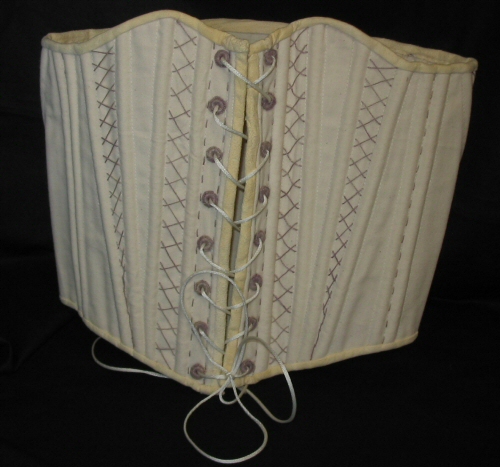 Back