Winter Coat

–

"Tudor Glows"

Deep velvet hood with point that echoes style line detail when down, Brocade sleeves with extended yoke, gathered into cuffs, pockets in side seams, Shot twill lining with domette interlining, Blocks of embellished texture, front opening with "storm flap", bound edges and silver clasps, walking slit at CB, with non-functional clasp at top as a stay. Embellished texture includes Free Machine Embroidery and machine patterns using silver thread; stamped and beaded motifs, shrink-texturing; and raw-edge appliquéd synthetic organza.

-"Made To Wear" Fashion Show , Nov 2006, A Quilter's Gathering, Nashua, NH
-2005 Festival of Quilts, Birmingham, England
-Only wearable featured with other countrywide City and Guilds
-Student Work in Magazine, "Popular Patchwork", October, 2005.
-Student Work Exhibition 2005, West Herts College, Hemel Hempstead, UK

Detail: showing clasp fastenings,

Bound edges,

And some of the texturing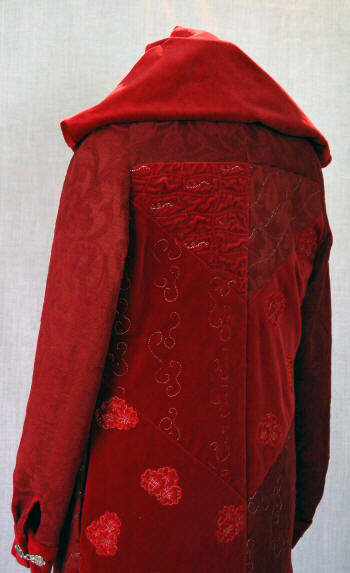 Detail: showing texture contrasts,
Piecing of texture blocks,
advanced style detailing of sleeves which extend into yokes,
and bag pockets in side seams.